Overview
Atomia Billing has three applications for several types of customers:
Storefront
Control Panel
Admin Panel
Storefront
The Storefront is used by new customers to place an initial order and get an account and login credentials. It should be integrated with a company's website, by creating a visual theme that resembles the rest of the site.
Control Panel
Existing customers can use this application to manage their accounts. They have the following features available:
List, view and printing of invoices.
Ordering new services (such as domain names or other extra services).
Changing address information.
Viewing and cancelling current subscriptions.
Upgrading or downgrading current subscriptions.
Admin Panel
The company's staff use the Admin panel to perform daily billing and customer related job. The Admin panel provides all the functionality described in the rest of this "Features" section.
Customer card
The main part of the Admin Panel is the Customer Card. This is a page showing an overview of a customer, including all the invoices, subscriptions, address details and login to the Customer Panel.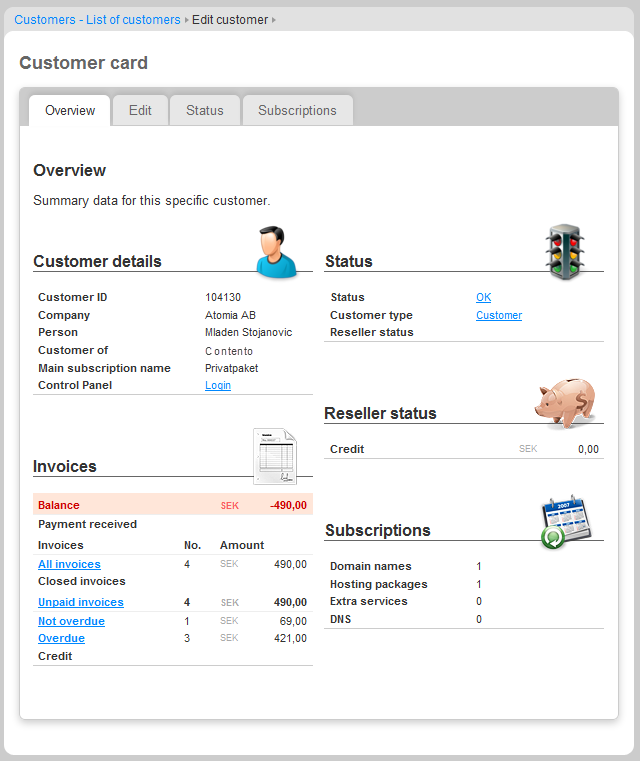 The Atomia Billing model
In Atomia Billing, customers place orders to buy products (e.g. web hosting, domain name registration, professional network membership etc).
Purchased products become a customer's subscriptions . A subscription is a record of every service the customer has received or is receiving at the moment. Customers are invoiced for their subscriptions. Subscriptions can initiate provisioning in the external systems (like registering a domain name). Also, subscriptions can be recurring causing a renewal invoice to be sent to the customer.
After a customer makes a payment , the appropriate invoice is marked as paid.