The DNS Editor
In the DNS Editor the end user can add, delete, import, and export DNS records. The already added data is visible in the DNS Editor, in which the end user can edit them or add new DNS Records.

Import zone
Here the end user can import zone data.

Export Zone
In the Export Zone the end user can export zone data.

Adding and editing DNS records
The end user can choose between basic or advanced types of DNS records.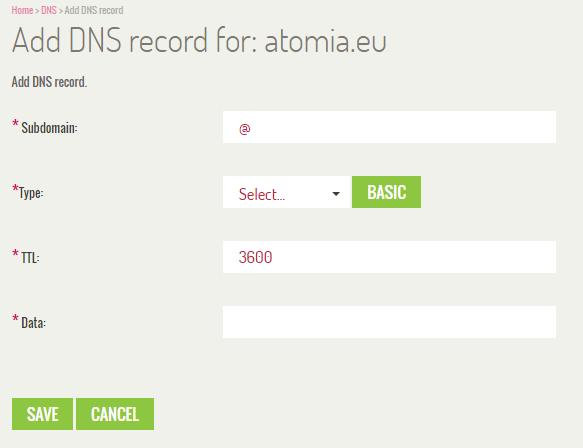 Basic types of DNS records consist of the general three (3) types:
The advanced types of DNS records consist of the following:
A

AAAA

AFSDB

Cert

Cname

DNSKEY

DS

HIP

IPSECKEY

Loc

Mx

NAPTR

NS

NSEC

NSEC3

NSEC3PARAM

RRSIG

SPF

SRV

SSHFP

TXT

TLSA
Atomia will also recognize if the end user wants to edit the DNS record, for example a www subdomain. This will cause one or more services to malfunction, and a notification is sent to the end user.